Let's travel to a historical and ancient city called Shushtar, with history of 8000 years of history. A City is famous for its World Water Museum and its valuable collection of antiquities. Shushtar is considered a priceless treasure in Khuzestan state, with rivers around it like Shatit and Greger Rivers. It's good to know that this city has an exemplary culture. It has the only river aaqueduct in the country that is still active and, despite its ancient history, uses water flow to irrigate Farmlands. With your visit to Shushtar, you walk into a famous city with a history of Sassanid, Parthians and Achaemenians eras.
The creators of Shushtar's Watercraft had a lot of genius and technical knowledge in the field of hydraulic engineering and, with managing and controlling water, took proper and principled exploitation of water resources.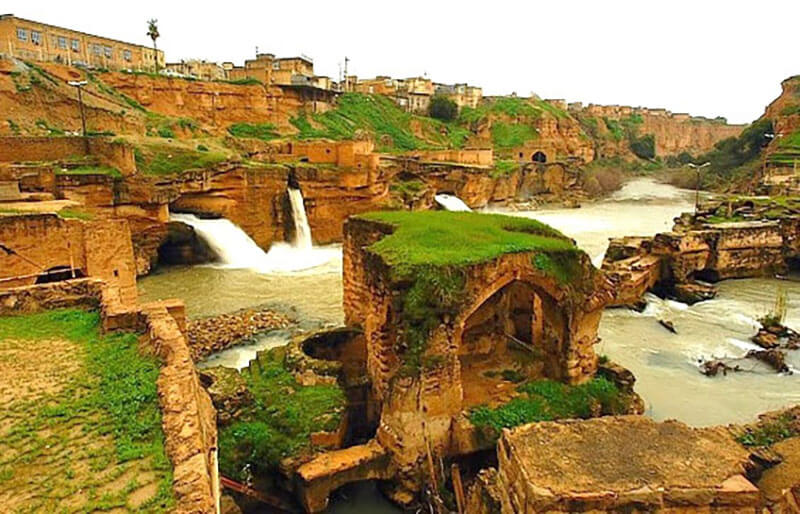 Uses of Shushtar's watercrafts
Each of Shushtar's Watercraft has its particular use and effect that, when connected, creates a united collection. In engineering and building Shushtar's Watercraft, materials like rocks, bricks and Malat Saroj have been used. This Watercraft caused the prosperity of industry and agriculture and played an essential role in transportation, communication and commerce.
Shushtar's Watercraft feeds water equally to all parts of the city and prevents the Karun River from flooding. It also creates cool weather that they use to send water to people's houses through cellars and basements, which are the Shavadons called in the Shushtari dialect. In addition, it fed Farmlands and Spin Windmills to create Wheat Flour.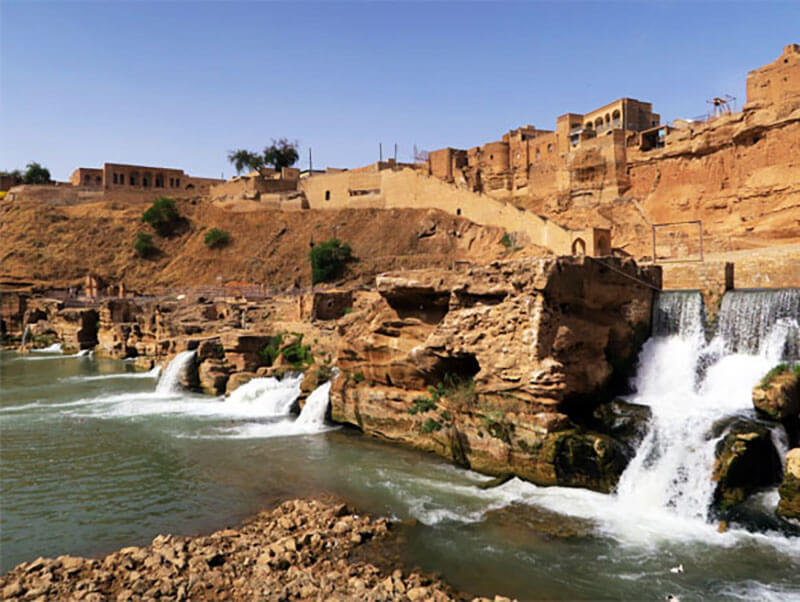 Where is Shushtar's Watercraft?
Shushtar's Watercraft are one of the incredible attractions of Khuzestan and are one of the most essential and valuable sights of Shushtar. This Industrial-Economic collection is near the historical sights of Shushtar and is easy to find.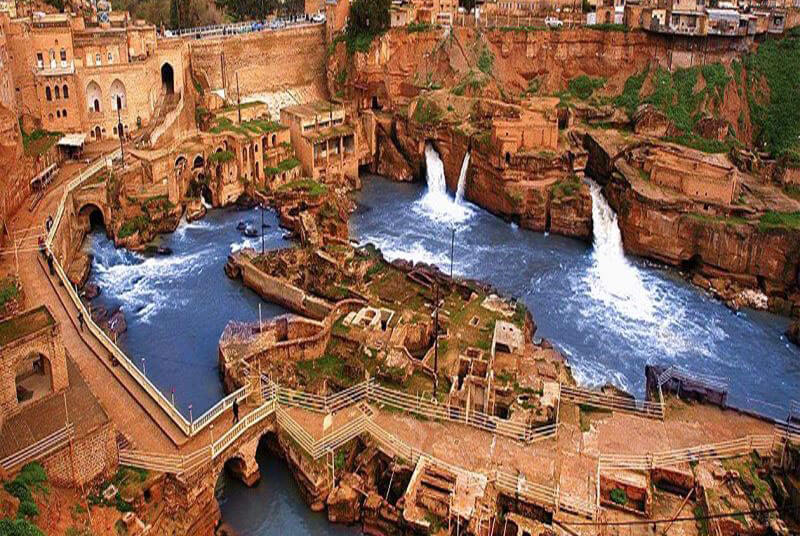 Different sections of Shushtar's Watercrafts
Shushtar's Watercrafts is the 10th registered place in Iran on the UNESCO World Heritage List.
Shushtar's water structure collection includes various parts such as bridges, dams, mills, waterfalls, canals, Sika (a place for rest and recreation) and massive water tunnels. Over time, many parts of Shushtar's Watercraft were destroyed due to hurricanes and other elements. Some of what's left are registered as Shushtar's historic Water system on the UNESCO World Heritage List with a number of 1315. The 5th of Tir (July) is the day, Shushtar's Watercraft got registered and got known as Iran's 10th World Heritage in 1388. In the following, we'll introduce you to more registered heritages of Shushtar's Watercrafts.
Mizan Band
Mizan Band is also known as Band of Qaiser, Shapuri, Dolatshah, Teraz, Khaqan and Mohammad Ali Shah. This Band branches The Water of the Karun River in two and divides them into two branches, Shatit and Gargar. Because the divided water in the Shatit River is two times more than that of the Greger River, The Greger River is called Dodange or Masreghan and the Shatit River is called Chahardange.
This Band was built to balance the waters of Shotit and Gorgor Rivers; that is why they call it Mizan Band (Band of balance)
Kolah Ferangi Tower
Kolah Ferangi is an Octagonal tower facing Mizan Band and is built on a stand 4 meters from the ground. This tower was created for the lookout to watch workers during their shifts in times of Qaiser or Sassani Shapur.
Hand-built Gargar River
Gargar River, which is located north of Shushtar, is one of the sub-branches of the Karun River that was divided by the Mizan Band. This river was hand built by Ardeshir, the Sassanid king in the Sassanid era. The bottom of this river is cobblestone and is connected by Metal fasteners for the river does not go too deep.
This river passes through the city and supplies the water needed for Canals and tunnels. Then Greger River joins Shatit in Band Qir, and with the Dez River, they all enter the Karun River.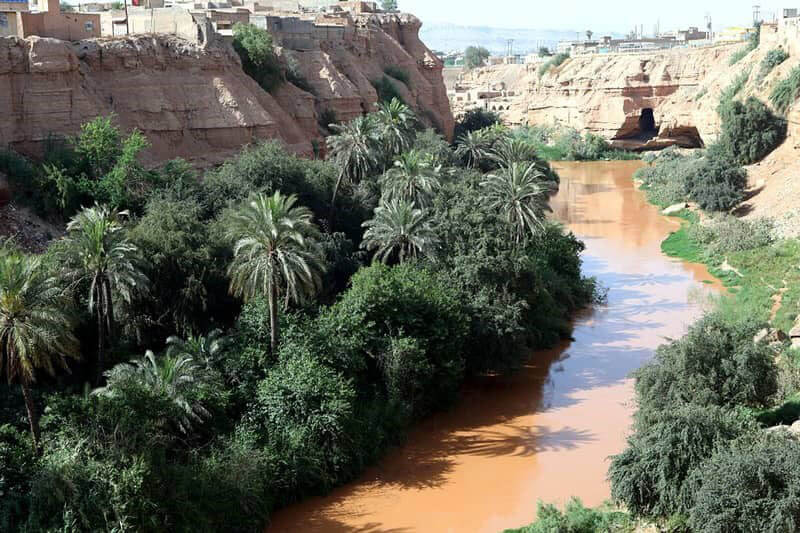 Greger Pol Band
Greger pol Band and three Deviation tunnels called Shahr, Se Koore, and Blitti are below the Mizan Band and near the Windmills. This Pol Band, which stabilizes water at a certain level, was built on a hill and tunnels inside the mountain that supply water needed to spin the Windmills. Now, with the malfunction of windmills, this water comes out of the tunnel like a waterfall.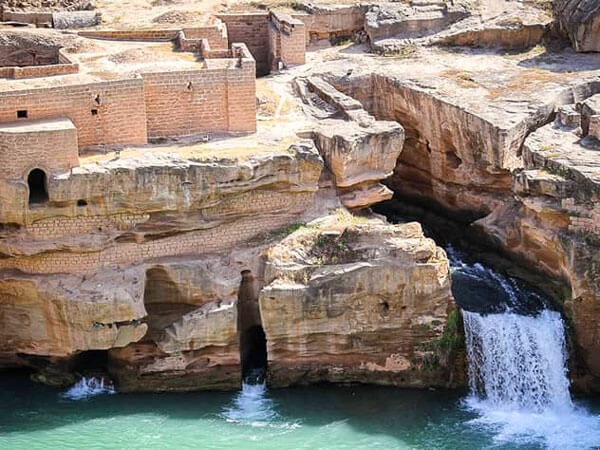 Collection of waterfalls and water windmills
The area of waterfalls and windmills of Shushtar is a collection of tunnels, Sub-Canals, water windmills and dams. When the Band rises the water of Gregar River, water inserts the Triple tunnels. It divides into various canals and, after passing specific paths and spinning windmills, comes out of tunnels like waterfalls into ponds.
Borj Ayar Band Pol and Sabean Shrine
Borj Ayar Band Pol was built below the waterfalls area and on the Gregar River that, in the past, passed through Gardens, and the water of the Pol came from Blitti Tunnel. This area was used as a Sabean Shrine in Safavid and Qajar eras.
Fisherman's Band or Khoda Afarin Band
Fisherman's Band, or Khoda Afarin Band, is between the Gregar River and Darion River, in an area called Maahi Bazaar and The Ancient City of Dastwa. An integrated stone string created this Band; in the middle are three walls dividing the water flow.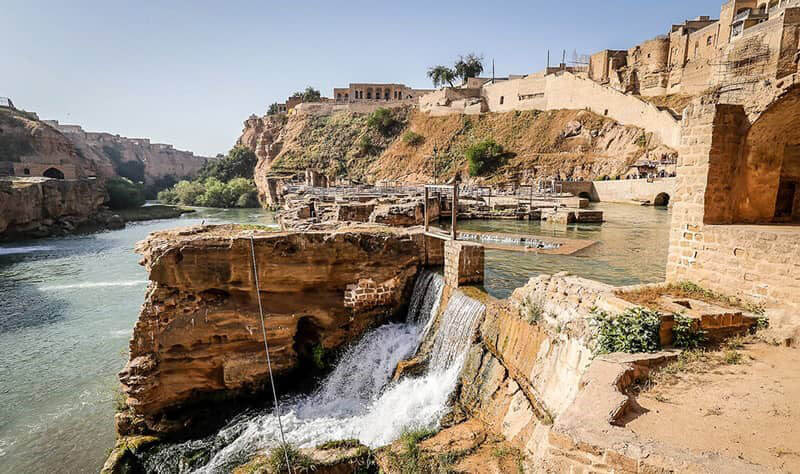 Salas Castle
Salas Castle or Kohan Dezh of Shushtar is the oldest part of Shushtar's Watercraft. Researchers refer to its age as the Achaemenid era. This castle was also used to control the water of Darion Creek alongside its Defensive rules.
Darion Creek
Darion creek is the Darion canal that gets separated from the Shatit River. Its water is used by Minab plain's Farmlands, City's drinking water supplies and access to Salas Castle.
Shadravan Bridge Band
Shadravan is one of the country's famous bridges. The story of its construction is mentioned in the Shahnameh, and Ferdowsi says a man named Branch, one of the soldiers of the defeated army of Romans in the battle with Sassanid Shapur, built it. This Bridge, which was created with stones, bricks and Saroj, is in the Shatit Branch. Remains of some old Windmills are visible near this Bridge.
Khak Band
Another Band collection of Shushtar's Watercrafts is the Khak Band, which is outside the city's west enclosure on Darion Creek and 500 meters higher than Lashkar Bridge Band. This Band Brings up the water level by some meters and guides the water to several gardens.
Lashkar Bridge Band
After Mizan Band, Lashkar Bridge Band is the least damaged Watercraft of this collection, and like others, bricks, stones and Saroj were used in its construction materials. This Bridge Band played an essential role in the connection between Shushtar and its Southern villages, connected Shushtar to Askar Makram City, and was one of the critical gates of Shushtar.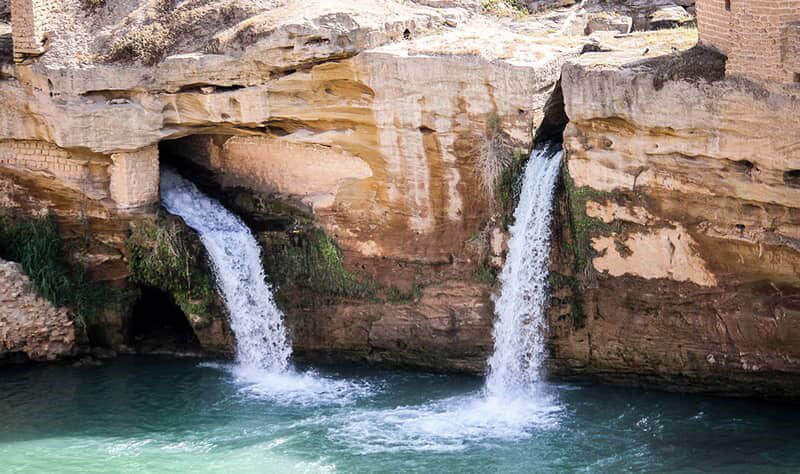 Sherabdar Bridge Band
Sherabdar Bridge Band is located South of Shushtar and On Darion Creek and was built by stone and Saroj. This Bridge Band is the link between Khorram Military castle north of Darion Creek and ages way back to the Parthians Era.
Other Parts of Shushtar Watercrafts
Ladders: In the Southside of windmills and waterfalls, there is a hand-built stone ladder with 200 steps that connects the waterfalls area to the residential area near the collection. On this ladder, there are rooms built for Watercraft guards to lodge.
 
Sika: At the end of the Westside of the Waterfalls area is Sika which you can reach by some hand-built stairs.
 
Dokhtar Band: About 3 kilometres north of Shushtar, where the great river of Karun reaches into the plain from the mountains, the river bed runs its lowest width. Dokhtar Band was built in this area in Sassanid Era. Its name was taken from a nearby castle called Dokhtar Castle.
 
Dara Band: This Band is in the Mianab area and on the Gregar River.
 
Shush Ali Bridge: This is located on Darion Creek, south of Shushtar and west of Imamzade Abdullah.