Travelling to Kermanshah is travelling to the heart of history and romance stories of Bijan and Manijeh, Shirin and Farhad and Khosro Parviz. Maybe the first thing that comes to mind after hearing the name of Kermanshah is this beautiful Poem from Malek ol Shoara Bahar that says: "
"بیستون بر سر راه است مباد از شیرین        خبری گفته و غمگین دل فرهاد کنید."
This single poem is enough for you to choose Kermanshah Tour for your next trip and get ready to visit the beautiful Boston, legendary Taqbostan and see the only statue of Hercules in Iran and many historical sights of Kermanshah.
1-The beautiful Biston; Story of Shirin, Farhad and Khosro Parviz
The name of Kermanshah is tangled with Biston and Taqbostan. This Historical place is considered the heart of Kermanshah's sights. The Taqbostan area has many Antiquities, some of which are: The statue of Hercules, the engraved inscription of Mehrdad II, Farhad Tarash, Sassani Bridge, Ilkhani Caravanserai, Abbasi Shah Abbasi Caravanserai and Safavi Bridge. The most famous part of Biston is Biston Inscription. This inscription was written in the heart of the mountain by order of Darius the Great to celebrate the beginning of his reign in 521 before Christ. In this place, you can see the engraved and highlighted stone statue of Darius the Great with a Bow and arrow 2500 years old.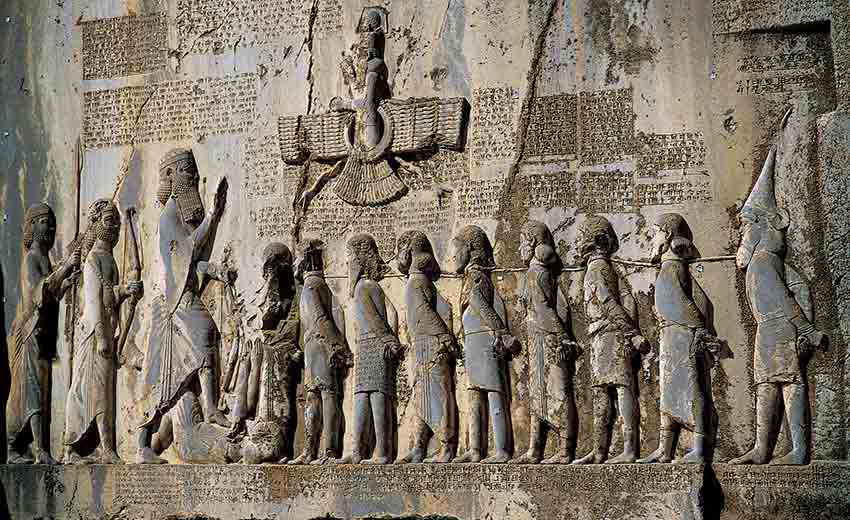 As mentioned, there are many caravanserais in the Biston area. The most famous of them is the "Shah Abbasi Caravanserai."
2-Kermanshah's Taqbostan; History's Beauty
The name of Taqbostan is associated with Sassanid kings and Inscriptions of that era. Taqbostan is the beauty of Kermanshah's history and will mesmerize you when you step into the area. The first thing that attracts you when visiting Taq Bostan is "Derakht Rahmat" (The Tree of Mercy) at the area's entrance. This valuable plantain tree, with about 28 meters in height and 8.5 diameters, is one of the world's oldest trees. This ancient tree of Taq Bostan, after "Saru Abarkuh", is the second oldest tree in Iran. T tales and legends mention Shirin planted this tree when her horse's leg got injured and met Farhad at Taq Bostan. This tree is now protected and registered in the list of natural national heritages of Iran. After the Derakht Rahmat, Taq Bostan is the second thing that catches your eye. This collection contains some historical scenes such as the coronation of Khosro Parviz, the Coronations of Shapur II and Shapur III, Ardeshir II and some stone inscriptions In the Pahlavi language engraved in the heart of the mountain. This collection was the hunting ground of Sassanid kings in the past and is still one of the most famous sights for its beauty after thousands of years.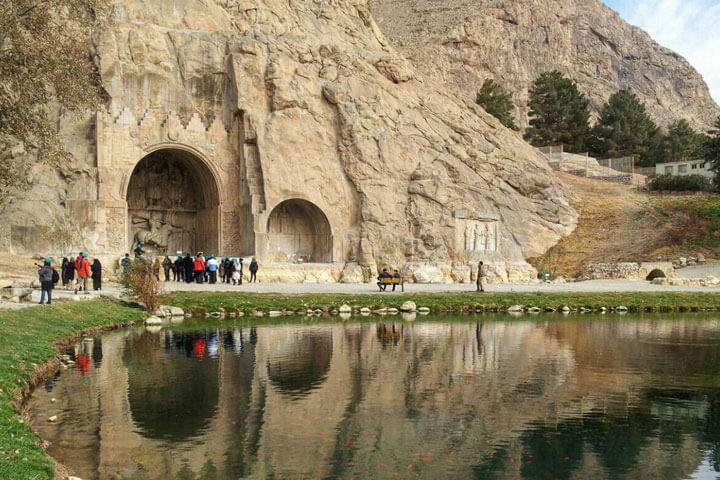 3-Kermanshah's Zij Manijhe; a Story from the heart of history's romances
Almost all people have heard of the romance of "Bijan and Manijhe", but did you know that Kermanshah was one of the favourite accommodations of the Manijhe? According to local tales, the remains of the square castle in the lower part of Taqgara and the big mountain of Pataq, near Gordakhme tomb and 15 kilometres from Sarpol Zahab city, were halfway resident for Manijhe's recreation. This castle is one of Kermanshah's historical attractions of Kermanshah which includes chambers inside a cradle, a rectangular structure, and several corridors. Gabri Castle is another one of Zij Manijhe's names. This beautiful castle is located in the old texture of the "Pataq" Village.
Taqgara is another of Kermanshah's historical attractions that are also called Taqshirin.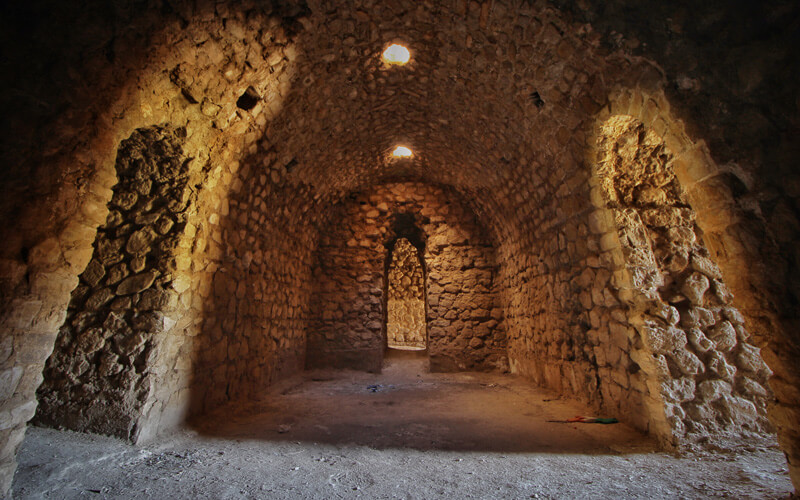 4-Kermanshah's Gordakhmes; Apartments of the past
Kermanshah's Gordakhmes, also known as "Dekan Dawood Gordakhmes" or "Dekan Dawood's Tomb", is one of the historical monuments of the Medians and Achaemenes era. Kermanshah's mysterious Gordakhmes were crypts and chambers in the heart of the mountain with different heights that people of the past built to bury their dead ones. Some are like apartments on top of each other and were used to conceal several family members.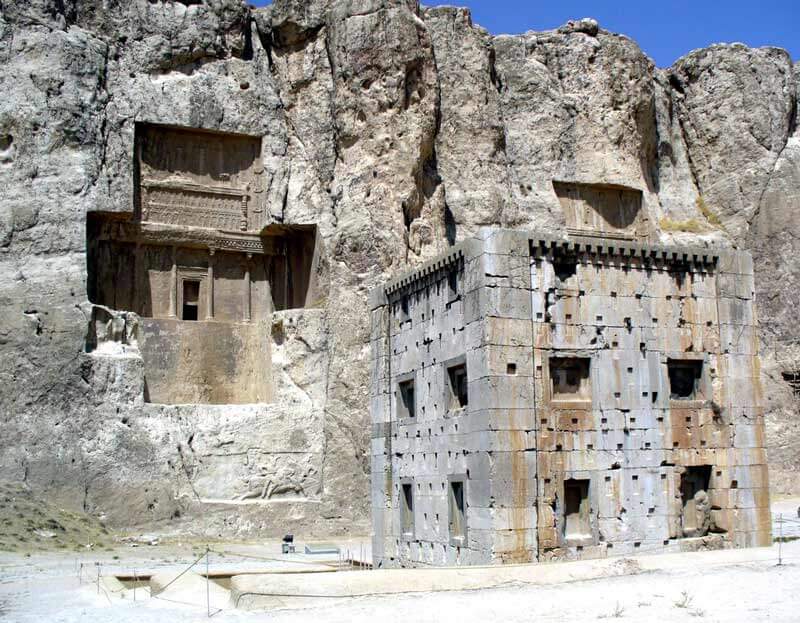 5-Kermanshah's Anahita Temple; A place to praise the goddess of water
"Kermanshah's Anahita temple, " also called "East's Acropolis, " was built on an elevated platform with a special and beautiful design. This temple construction age went back to Sassanid and Parthian reign and was a place to praise the lady and the goddess of water, "Anahita". However, some researchers know this place as remains of an incomplete palace in the Sassanid era.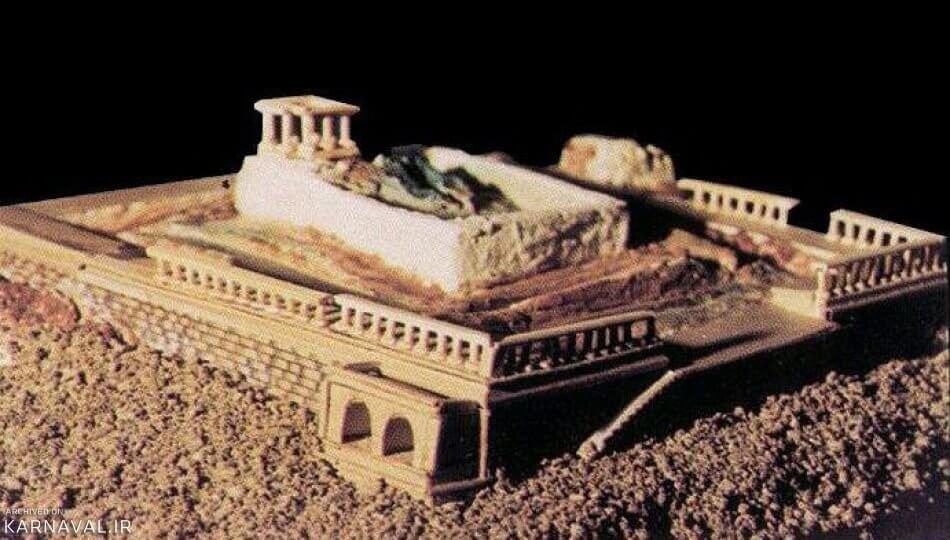 Other historical attractions of Kermanshah
As we mentioned, there are more than 3000 historical monuments, and we said five above. Some other tourists and historical monuments of Kermanshah are:
Farhad Tarash:
We all know that Farhad sacrificed everything to reach Armenian Princess"Shirin". This Romantic has a history with some of the monuments in Kermanshah. One of the Monuments in the Biston Complex is "Farhad Tarash". It is said that Khosro Parviz ordered Farhad to dig this mountain to reach water, and it is where Farhad hit his head with his axe when he heard the fake story of Shirin's death.
Hercules Statue:
the first thing that will catch your eye in the high-value city of Biston is the "Hercules Statue" in the list of National Heritages of Iran and UNESCO. In Greek Mythology, Hercules was a strong man and the son of Zeus (The God of Gods), and nothing could defeat him. This giant statue, whose age goes back to 153 years before Christ, is a statue of a massive man who holds a bowl in his left hand, has a long beard and lies on a lion's skin on his side and is leaning on his other hand's elbow.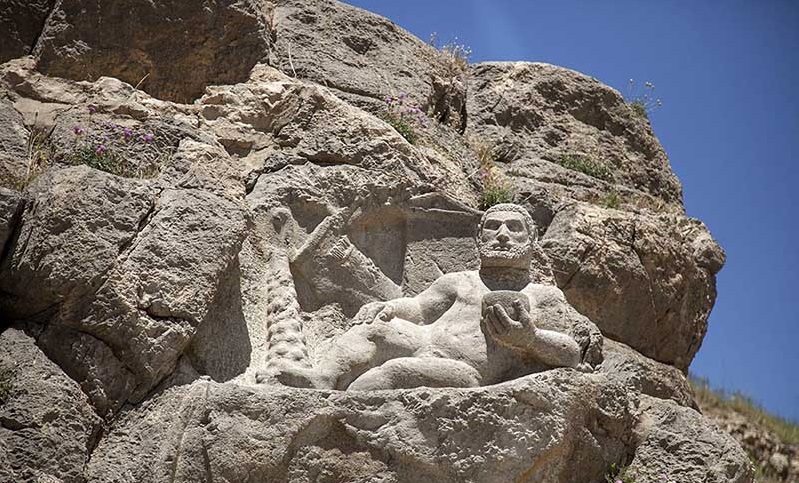 Engraved Monument of Mehrdad II:
A little bit down from Hercules's statue is the engraved picture of Mehrdad II. The age of this figure goes back to the Achaemenes Era and on his right side is the figure of "Gouders", which shows the victory scene of Gouders II.
Devashkaft Cave:
This cave is located north of Kermanshah City and in the "Mobole" Mountains and is the oldest resident of humans in Kermanshah City. According to archaeology research, the age of monuments found in this cave goes back to Stone Age and Paleolithic. This cave is considered the residence of humans and Neanderthals in Iran about 120 to 40 thousand years ago.
Khosro's Wall; Khosro Parviz's hunting ground: This wall that is also known as "Tepe Murad Hasil", is the only remaining hunting ground from Sassanid Era; later on, researchers found out that it was the construction site of a big city in Achaemenes Era and was ordered to build by Khosro Parviz.
If you want to visit kermanshah attraction, so you need iran visa, for get iran visa, contact us please.