Iran Deserts cover about 34 million hectares of the 1648195 square km land of the country. About 61% of them are deserts, 24% Sand Dunes and 15% sand hills. Each of the deserts in Iran belongs to one of the following groups:
Clay Deserts
Wet Clay Deserts
Clay and Saltmarsh
Matinabad Desert Eco-Camp
Traveling to the desert is one of the best experiences a natural tourist can have. The nature of the desert and its fierce life is undoubtedly one of the most charming natural phenomena. Iranians are accustomed to the desert. Though a desert resemble thirst, it has a sense of calmness so deserts of Iran are probably one of the best places where you can spend a day or two. Rig Shagh is a desert covered with sabulous and located in north of Bad Rood and north east of Matinabad eco-camp in Isfahan province. In this camp, there are natural wonders awaiting you that you haven't experienced. Matinabad camp is the first eco-camp created based on the basic principles of sustainable tourism and ecotourism
Maranjab Desert
Shah Abaas named this place Maranjab. When Tajiks and Afghans were about to reach central regions of Iran and Isfahan during their attack, Shah Abbas felt that there should be a fortress and a caravanserai built on the Silk Road. The upper part of the caravanserai was constructed in forms of trenches and it is said that there were 500 armed soldiers present at the castle at all times to secure transit of goods from China to Europe and vice versa. Maranjab was the name of this caravanserai and the aqueduct around it which was built during reign of Shah Abbas. Nowadays, the surrounding areas are known as Maranjab Desert. Maranjab Desert is located in north of Aran Va Bidgol in Kashan, Isfahan. Maranjab is in fact is in south part of Bande Rig Desert.

Mesr Desert, Biazeh Desert and Namak Lake
Mesr is a small village located in Dasht-e-Kavir, 45km east of Jandaq and 30km north of Khoor in Isfahan. Mesr Desert is surrounded by mountains from west, south west and south east and is a part of mountain ranges situated in Central Iranian Plateau. Its previous name was "Mazrae Yousef". Because it is located in south of a large desert, it has hot and dry weather.
The villagers of remote but beautiful Mesr never have thought that one day they would be famous. In fact, filming a movie named "So Near, So Far" near this village, made others aware of this place for the first time. The little village of Mesr which was named almost 100 years ago by a Sheppard called Yousef, has variety of attractions that can be visited in a right season during a multi-day trip.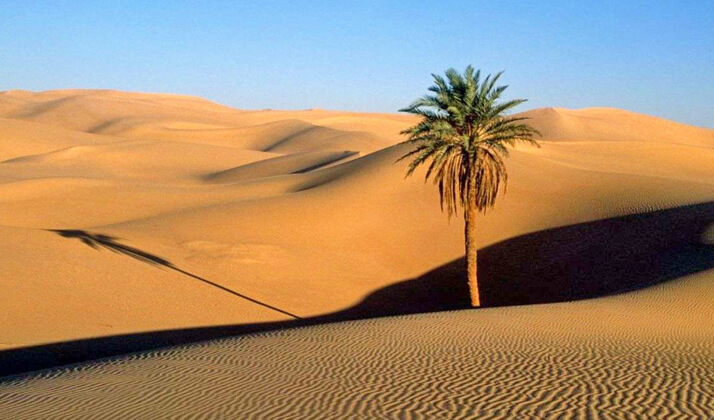 Varzaneh Desert
Varzaneh is one of historical cities of Isfahan known as "East Negin of Isfahan" because of its rich historical treasures. Varzaneh old bridge, Jame Mosque, Robat Shah Abbasi, several old caravanserais and vents, various Ab Anbars, towers, Kabootar Khaneh, castles, water mills and Emamzadeh Shah Zeinalabedin are among historical monuments existed in this city. One of the folkloric attractions of this city is that it is the only place in Iran where women traditionally wear white Chador. For this reason, it is also known as the "City of White Pigeons".
Shahdad Desert
Shahdad is located 70km north east of Kerman province and 40km away from the legendry city of Kalouts and has the most deserts in province of Kerman. The legendry city of Kalouts is extended in an area of 11000 square kilometers and is only 40km away from Shahdad. It was formed 20 thousand years ago due to wind and water erosions. There are 100 acres of salt marsh in Shahdad Desert which couldn't be found anywhere in the world. It can be easily proved that no living thing could survive in Dasht-e-Lut which is extended 30 thousand kilometers. A cow, which had been wasted in the desert in winter of 1986, was found after 15 years. It was scorched but remained intact.
Yazd Desert
Among historical cities in Iran, Yazd draws more tourists, especially European, from around the world than any others. Tourists are extremely fascinated not only by its deserts but by its handicrafts, natural sceneries, religious sites and historical monuments. Yazd has gone a long way in terms of development of tourism industry. It is expected that Yazd is going to reach the summit of desert tourism very soon. Skiing in the desert, sand bath and camel riding are among recreational attractions of this city.
Abu Zeid Abad Desert
Abu Zeid Abad is located in south eastern Kashan. It is situated in a low plain region in Kashan city. Although it hasn't been mentioned in any geographical ancient texts, the villagers believe that it was created 900 years ago. There are castles to confirm the claim of the villagers. The people of Abu Zeid Abad have lived in seclusion for centuries and been protected from Arabs and Turks invasions due to unfavorable and fierce environment. Nevertheless, this isolation helped them keep their original ancient Farsi dialect called Raji which is one branch of Central Iranian languages. Local people call this region "Bizovoy" which means "Fragrance" in Zoroastrian Dari. Other people from Kashan and Delijan call this place "Bouz Abad".