Iran is the third handicraft producer in terms of variety after India and China. Iran handicrafts include 18 groups, 155 fields and 140 subsets, and although Iranian carpets are considered among the oldest Iranian arts, it is not a subset of the handicraft organization of this country.
Since Iran has 5 thousand years of civilization and has rich culture and traditions, it is evident that it should have a lot of variety in arts and handicrafts. Almost all climate and geographic regions of Iran have the long-lasting art of handicrafts.
Needlework, poetry, felt, carpet weaving, kapu bafi, met weaving, stone carving, turquoise carving, Baluchi embroidery, maraq, giveh weaving, etc., are some of the handicrafts of Iran's different cities. And we intend to introduce you to a little about these symbols of culture and art.
Marquetry is the art of decorating the surface of objects with tiny triangles with different patterns that are always in regular geometric forms. They pattern the things by putting little triangles together. It can be said that Marquetry is polygonal triangles that are made of bone, wood and rice wire that are usually 2 millimeters thick that are glued to the inner and outer surface of wooden objects.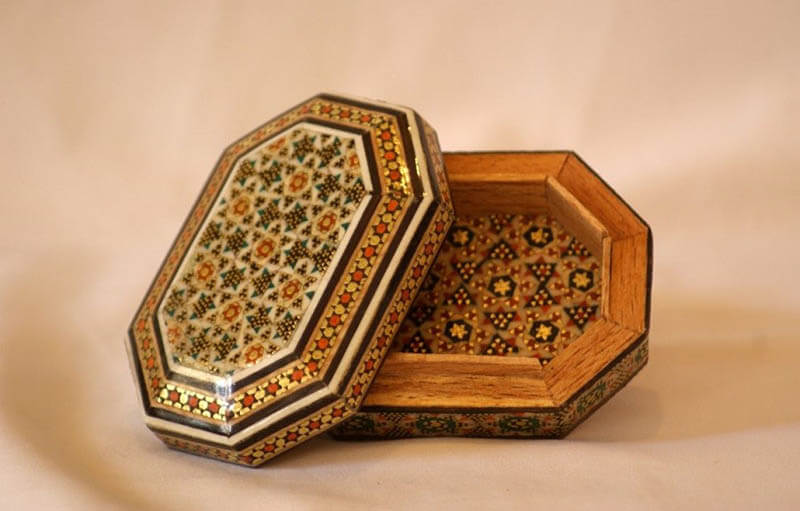 Isfahan; International city of handicrafts
Isfahan, "the International city of handicrafts, " is the first in handicrafts in Iran. The international handicrafts council registered this city as the global city of handicrafts, with about one-third of the whole handicrafts of the world. Enamel work, Inlaying, penmanship, turquoise engraving and tiling are some Isfahan handicrafts.
Yazd Handicrafts
Yazd is famous for its textile and tiling industry. Cashmere embroidery, Zilo weaving, Darai weaving, tiling and poetry weaving are some of Yazd's original handicrafts.
Zanjan Handicrafts
Zanjan Handicrafts are all types of knives (pencil sharpeners, pocket knives, tapestry handles, kitchen knives, etc.) Tapestry (glass holders, trays, spoons and forks for food and tea, bowls, vases, photo frames, etc.), hand-woven carpets, and rugs. Local handiworks of Zanjan are Making silver and gold objects with a tapestry that was common at first in Zanjan, and in the Reza Khan reign, Zanjan artists moved to Isfahan and Tehran and spread this elegant art.
Charuq dozi is another one of the traditional arts in which the delicate hands of Janjanian Artists had talent. These Charuqs were obviously for women and used in ceremonies and parties.
Mat weaving is one of Khuzestan's oldest handicrafts and maybe the most ancient handicrafts. Nowadays, you can only see Mat weaving in certain parts of Khuzestan that have access to palm leaves and reeds. The cities of Abadan, Khorramshahr, Shadgan and Dasht Azadegan are major production centers of this product.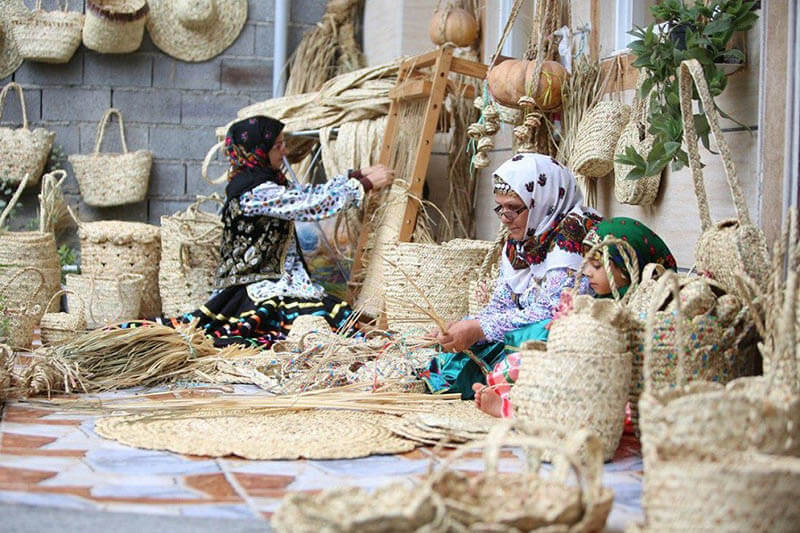 Bushehr State
Today, the most known handicraft product of Bushehr State is Ga-be and rug weaving, which are common in most cities of the state. The most critical Gabe centers in Bushehr State are the villages of Shul, Kamali, Bahmaniari, Mohammad Salehi, Abbasi, Fakharaviri, and Keller and four villages from Ganaveh. Next, we should mention the camel robe of Bushehr, which is unique and are rarely produced nowadays.
Gregor weaving, mat weaving, pottery and ceramics are other handicrafts of Bushehr State.
Ilam province Handicrafts
Rug weaving, wave weaving, felt weaving, stick weaving, turning, jewellery making, and carpet weaving.
Tehran province handicrafts
Rukari (Roduzi), carpet weaving, Jajim weaving, tent weaving, Felt making, Zilo weaving, pottery and ceramics.
Gilan Handicrafts
Gilan has a lot to say about handicrafts because of their weather, soil, and vegetation, which was the residence of humans thousands of years ago. But the handicrafts of this area of Iran are not so fancy because it was not the capital of prominent dynasties and its handicrafts were for daily use. Some of the known handiworks of Gilan are:
Chamosh (Choemosh) making, which is a type of shoes, mat weaving (which is also woven both in the north of Iran and Sistan and Baluchestan province), rashti embroidery, Felt making, roof pottery, morvar weaving, tent weaving, etc.
Pottery is famous in the Amalesh area and Jirede Shaft village. Ceramics and pottery dishes are also among the handicrafts and souvenirs of Gilan.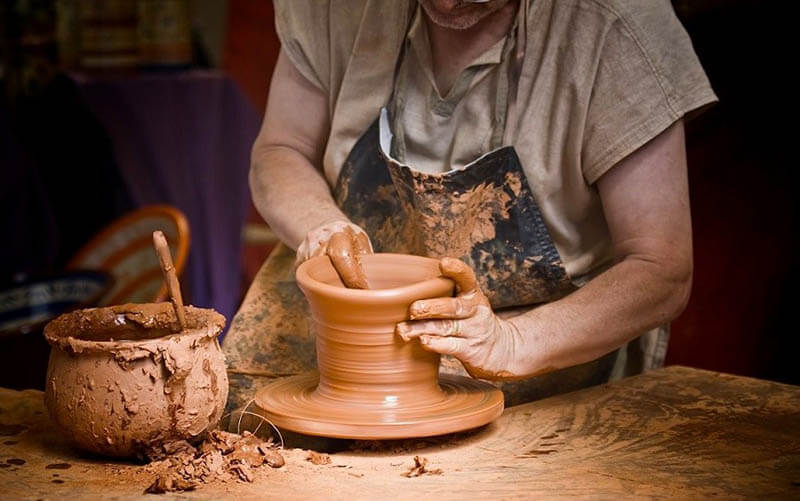 Shiraz Handicrafts
Shiraz is one of the oldest and most prominent cities in Iran, which was among the first cities with a municipality. Due to its ancient history, this city has old and luxurious buildings and industries. One of the most famous handicrafts of Shiraz is Inlay and calligraphy. Spinning, metalwork, carpet weaving, mat weaving, Inlaying, pottery carving, embroidering, felt making, leather making, stonemasonry, and glassmaking are other handicrafts of Shiraz.
Hamedan Handicrafts
Hamedan is also one of the oldest cities in Iran, with thousands of years of history. There will be handicraft industries whenever there is civilization. Hamden is a rich source of stones and good soil because of its mountain climate. Therefore pottery and lithograph are among the famous handiworks of Hamedan. But leather making is another one of the well-known high-quality handiworks in Hamedan. Hamedan was so popular with its leather making that in the past that people used to call it the city of Tanneries.
Varni Bafi is another important handicraft of Azerbaijan Sharghi Province that belongs to the nomads of this area. In the Azeri language, another name for Varni Bafi is "Sumak". Varni Bafi is a kind of carpet or rug with no lint that is one-sided. Varni is not carpet or rug. This beautiful art is famous because it has the elegance of a carpet and the suppleness of a rug. This ground cloth is made with the weft sewing method (passing the main weft from the strings and tying the line around the rope strings). Carpet weaving masters estimated the age of this valuable art to be hundreds of years, but nothing can be told about the same era and date of detection. The hands make this beautiful ground cloth of the nomad women of Ahar and Arsbaran regions, which is why people call it Nomad Varni Bafi.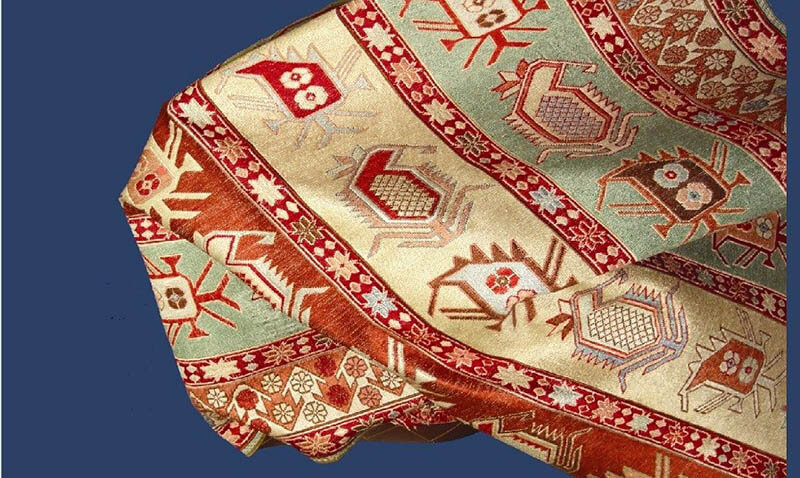 Tabriz Handicrafts
Tabriz, the cultural capital of the Islam World, is internationally famous for its carpet cutting and handmade carpet weavings. The international handicrafts council selected Tabriz as the International city of carpet weaving. Other handiworks of Tabriz are leather, Calligraphy on silver and copper (Tabriz calligraphy is a different style of calligraphy), carpet weaving and Varni Bafi.
Chaharmahal and Bakhtiari province Handicrafts
Chalashtar is the center of a resident of nomads and villages of Chaharmahal and Bakhtiari provinces, where carpets and rugs are produced. Chalashtar carpets have brick, Lachk toranj, Mina flower, Bi baaf, Simple, bot-te, etc., and some patterns Chalashtar carpets get weaved.
Semnan province Handicrafts
Among the typical handicrafts in Semnan province, we can mention all kinds of rugs, carpets, ground cloths, tablecloths, ceramic pottery and felt.
Khuzestan province Handicrafts
One of the essential Khuzestan handicrafts is weaving in Shushtar and its surroundings.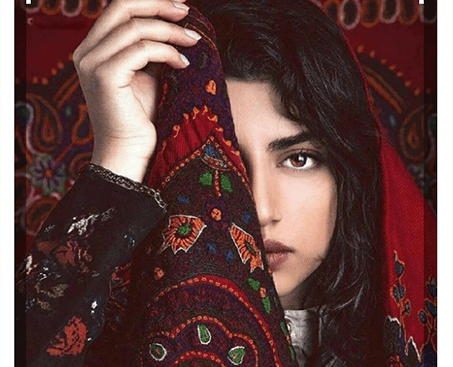 Kurdistan province Handicrafts
Pottery and ceramic making, tiling, carpet weaving, "Riz Maahi", bateh pattern, cloak collar, collar (three knots), emerald collar, collar (two knots), small collar, ball collar (eight feathers), Vakili flower, Mirza Ali flower, deer horns (Yahia Chalami), rugs, Bijar rugs, Shahson Bijar rugs, carving, wood joinery, hand weaving, rice weaving.
Kerman province Handicrafts
Carpet weaving, Royal rugs, Shiriki Pich rugs, embroidery, shawl weaving, wide weaving and making decorative copper products
Kermanshah province Handicrafts
Carpets, rugs, jajim, julayi, moj, chigh, all kinds of yarn, wooden handicrafts, pen making, engraving, rosary making, glass making, sculpture, metal work, felt weaving, leather making and all kinds of janmaz(Sajjadeh), socks, hats, handmade vests.
Golestan province Handicrafts
Carpet weaving, Turkmen jewellery, felt making, needlework, pottery and ceramics.