Iran has a wide variety of food and some Iranian dishes have many fans both in Iran and other parts of the world. In the following section, we mention some of the traditional dishes of Iran:
Koofteh Tabrizi (Tabrizi meatballs)
Koofteh Tabrizi is one of Iran's most famous and delicious traditional dishes. As its name suggests, this dish comes from the city of Tabriz. Of course, there are different types of meatballs, and other words in the Middle East refer to it.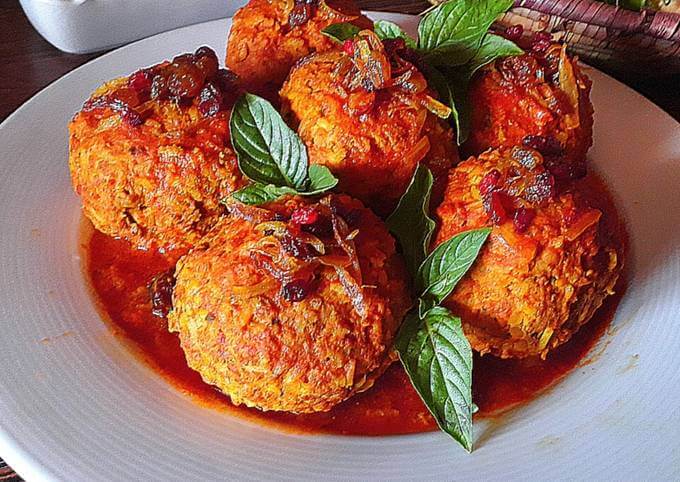 soopeh sabzijaat (Vegetable soup)
For several years, the first Saturday of December every solar year has been named "World Black and Green Day" by lovers of Iranian culture. This stew is cooked with vegetables, beans, red onion and red meat. The taste of this stew should be slightly sour, therefore, a little dry Omani lemon or fresh lemon juice is added to it.
Abgoosht/Dizi
Dizi or Abgoosht is one of the oldest, most delicious and most nutritious authentic Iranian dishes. As its name suggests, this food is water and meat, two of its main ingredients. This question will come to your mind, what is the difference between broth and c? The answer to this question is simple; The elements of dizi and broth are the same. In fact, both are the same food. The only difference is in the cooking method. It is customary to call Abgousht "Abgoosht" if cooked at home and "Dizi" if prepared outside and inside the oven.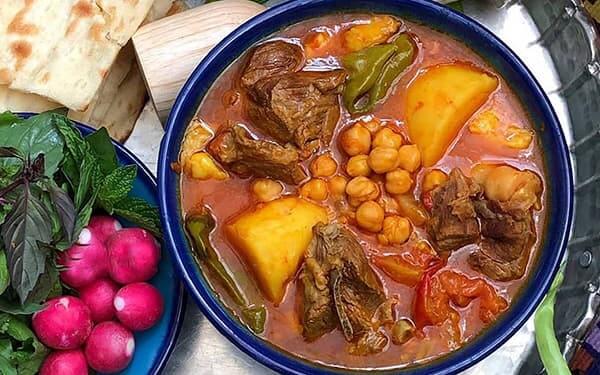 Gheymeh nesar
gheymeh nesar is one of the Iranian dishes traditionally cooked in Qazvin. gheymeh nesar, with its many side dishes, is one of the most delicious and popular Iranian dishes. Sometimes this food is mentioned in the native dialects with the name gheymeh Nesar, which is a misnomer.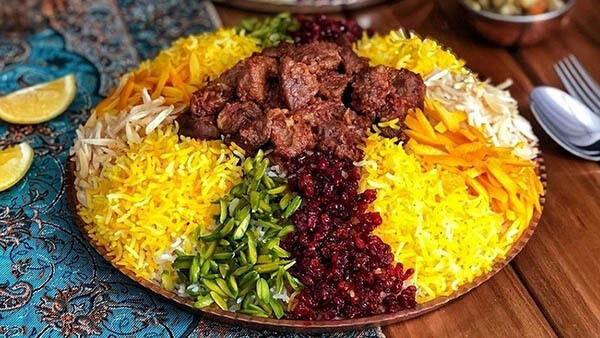 Tahchin
We are all familiar with this beautiful saffron and Iranian rice dish. one of the popular and common Iranian dishes, which is usually made with yoghurt, rice, saffron and eggs.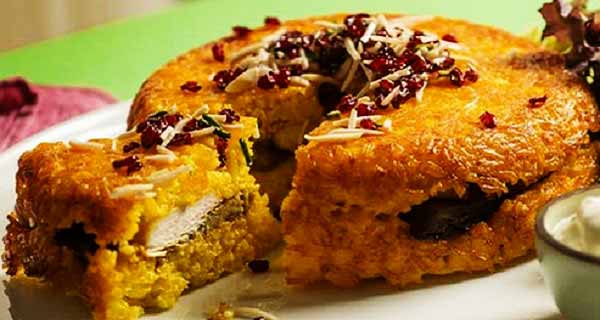 Kabab Tabei (pan kebab)
Kabab is one of the simple and convenient Iranian dishes with fans in many Iranian homes. You may have seen this dish many times with the names Kabab Digi or Kabab Boshghabi, which indicates different methods of preparing and cooking it.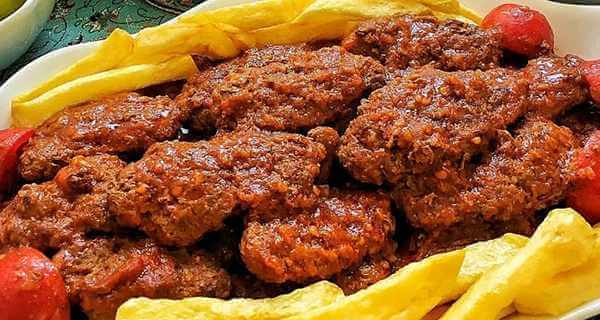 Mahi Shekam Por
Fish is the most popular and consumed seafood, which can satisfy different tastes of people due to its wide variety and cooking methods. In the meantime, mahi shekam por, one of the most famous Iranian dishes in the north and, of course, the country's south, has various ingredients.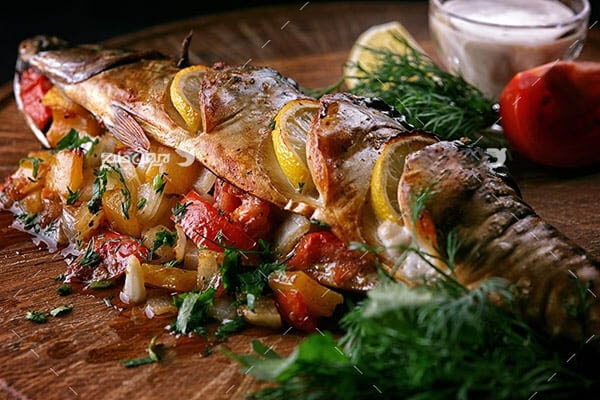 Meygoo Polo Bushehri (booshehri shrimp pilaf)
Meygoo Polo Bushehri is one of the best Iranian seafood dishes, and as its name suggests, it is from the southern region of Iran.
Doogh Pai Sistan and Baluchistan
At first glance, you may think that this food is the same as our gheymeh and is no different from it. But you are entirely wrong! Doogh Pai stew, or Doogh Pi, is one of the famous dishes of Sistan and Baluchistan, which many people confuse with gheymeh due to its appearance. This traditional Iranian food is delicious and, of course, somewhat sour, and as soon as you taste it, you will notice its different and new taste.
Baghali Polo ba Mahiche
Among Iranian pilafs, Baghali polo is the most popular. Rice, dill and fresh green beans are used in preparing this dish. The meat served with this dish is optional and can be chicken or lamb. However, the basic recipe for making pilaf beans is mentioned with muscle or neck meat.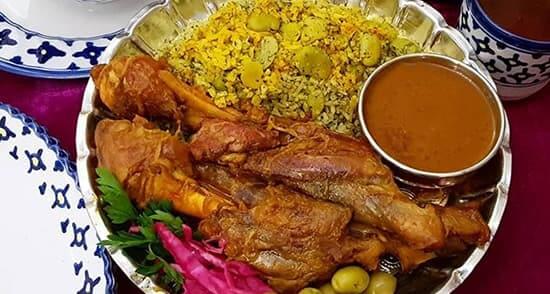 Shirin Polo
As you may have guessed, sugar is used in cooking Shirin Polo. for those who like rice with a sweet taste, Shirin Polo is your food!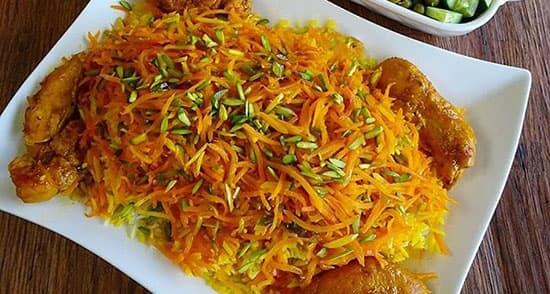 Gheymeh Bademjan
It is similar to gheymeh; eggplant is the only difference in its ingredients.
All types of kababs
In Iranian parties, the kabab plays an important role. You must know that there are different kababs, such as kabab Barg, Koobideh, Bakhtiari, kebab Torsh, Chenjeh, shishlik, etc.. kebab Barg is one of the most delicious kababs and is made from sheep meat or calf thigh bone marrow. Kabab Barg is served with Chelo Berenj (rice), and grilled tomato, grilled pepper, basil, and onion are the main ingredients of this dish, and they must be served on the side.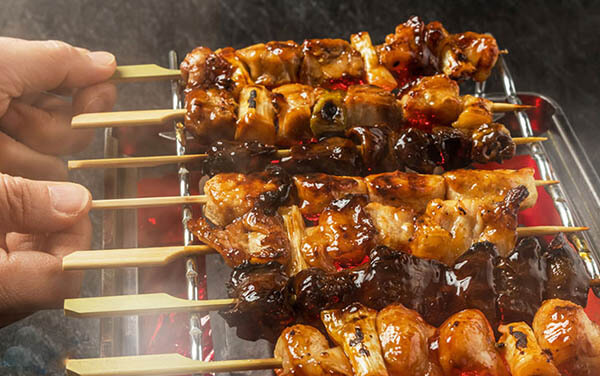 Joojeh Kabab
Joojeh Kabab is prepared from chicken meat and is very popular. Most Iranian people grill flavoured chicken meat and cook barbecued chicken on vacations and trips. The leading side food of this dish is orange or lemon. Joojeh Kabab is served with bread or rice.
Mirza Ghasemi
Mirza Gasami is one of the local dishes of the Gilan and Mazandaran provinces.
Kashke Bademjan
Kashke Bademjan is an Iranian Eggplant Dip that you need to try! it is a famous Persian Eggplant Dip. It's a perfect warm appetizer that is served with Persian bread (Nan).
Kinds of Dolmeh
As you know, there are many types of Dolmeh in Iran and the neighbouring countries. There are many types of Dolmeh, such as grape leaves, cabbage, tomatoes, bell peppers, onions, etc. The ingredients of Dolmeh are rice, meat, onions, and aromatic vegetables. It is made of ingredients that vary depending on each city in Iran, but it takes a lot of effort to make Dolmeh, and it is a great pleasure to eat it.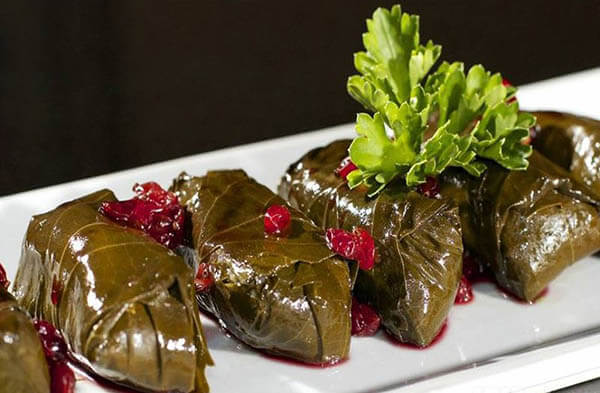 types of Ash
The variety of Ash in Iran is excellent, and every city has its own Ash. Among the most famous kinds of Ash are Ash Reshteh, Ash Jo, Ash Doogh, etc.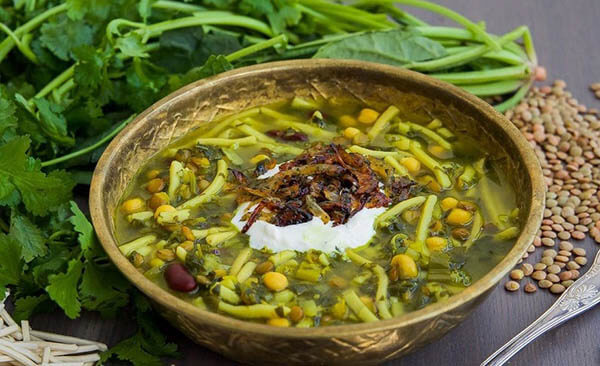 Loobia Polo
Loobia polo (Bean pilaf) is one of the most famous Iranian pilafs. It hasn't lost its popularity throughout history but has also become more delicious and popular with various cooking methods.
Estamboli
Estamboli, or Dami Gojeh, is one of the most uncomplicated and delicious dishes that can be prepared with simple ingredients.
Dam Pokhtak
Dempokhtak is one of the local dishes of Tehran province. It is another simple, delicious and authentic Iranian dish.
Marsa Polo
Marsa Polo can be made in 3 general ways using chicken, meat and fish. Of course, the most popular type of it is Marsa Polo ba Morgh. This dish is a delicious and nutritious dish full of colours and beauty and can give a different glaze colour to your table. Another name for Marsa Polo is Polo Negin Kar, a stylish and formal dish prepared at most parties.
Reshte polo
reshte polo is one of the types of pilaf in Iranian cuisine, which is mostly cooked with cooked meat or fried onions, dates and raisins or both. It is a tradition that it's eaten on the day of the Nowruz celebration. Reshteh polo is one of the most delicious dishes in Behshahr.