Lorestan has many natural attractions, among which its seasonal and permanent waterfalls have always been considered.
Shoi waterfall: The Biggest Waterfall in the Middle East
Shoi is one of the most famous waterfalls in Lorestan. That is about 100 meters tall, and its importance is because it's the biggest Waterfall in the Middle East.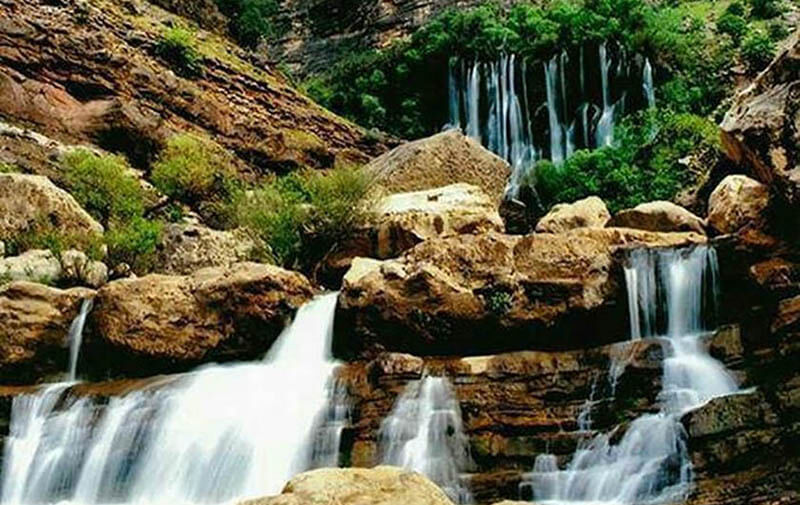 Aab Sefid waterfall (White Water); Bride of waterfalls
If you want to visit one of the most beautiful waterfalls and camp in the middle of nature, visit Aab Sefid, Which has the title of the bride of waterfalls. This Waterfall is about 70 meters tall and is located near Aligudarz city. When this Waterfall falls, it gets mixed with air, and after hitting the stones at the bottom, it turns into white bubbles, and that's the reason they call itAab Sefid waterfall (White Water)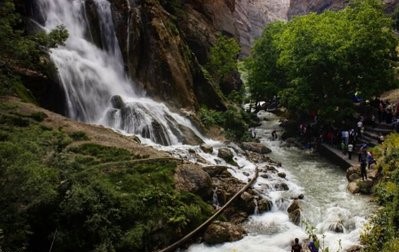 Bisheh waterfall at the heart of Zagros
This Waterfall is in Zagros's green and new fields and pours in Caesar River. The grove is located in the path of the Tehran-Khuzestan railway, and springs are visible on its soundings, doubling its beauty.
Nozhian Waterfall with unique medical plants
If you want to see one of the tallest waterfalls in Lorestan, go to Nozhian. This Waterfall has two times more beautiful nature in spring because of the quantity of water and will attract every tourist if you are interested in medicinal plants and enjoy their vegetation.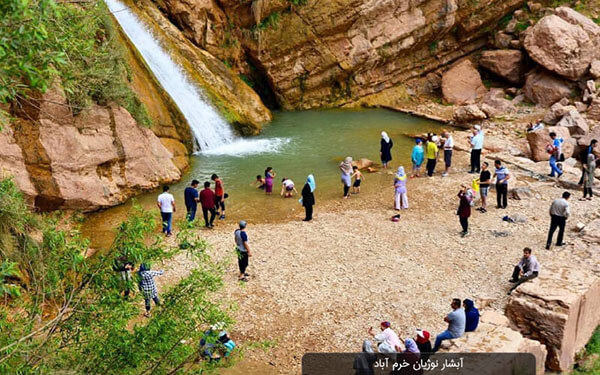 Brinje waterfall (Taaf): tallest Waterfall in the country
Taaf is the tallest Waterfall in Iran and is located near the old village of Pir Imam. This area has magnificent nature because of Inverted pupil flowers, especially in spring. Stair-shaped Brinje waterfall is in Aligudarz's Shul Abad village.
Great Waterfall (Sarkane); Surrounded by oak trees
This Waterfall is located near Khorram Abad in a village named Great. The great town of Haft Cheshmeh is full of Oak trees in a valley and can attract every tourist interested in photography and nature.
Chekan; a seasonal waterfall
Chekan is one of the seasonal Waterfall of Lorestan because it is full of water in spring and summer and dries out in other seasons. This 30-meter Waterfall comes out from a cave and pours into the Chekan River at the end. Chekan waterfall is located in the heart of the Zagros Mountains and is near Aligudarz.
If you want travel to Iran for visit this attractions, for Iran visa application , contact us please.
Efrain waterfall; Four Seasons waterfall
This Waterfall is located between Khorram Abad and PolDokhtar and the best time of year to visit it are spring and fall seasons.
They call Efrain Four Seasons because it is always full of water and never dries out. There are also exciting sites around this Waterfall, one we can point to Efrain Bridge.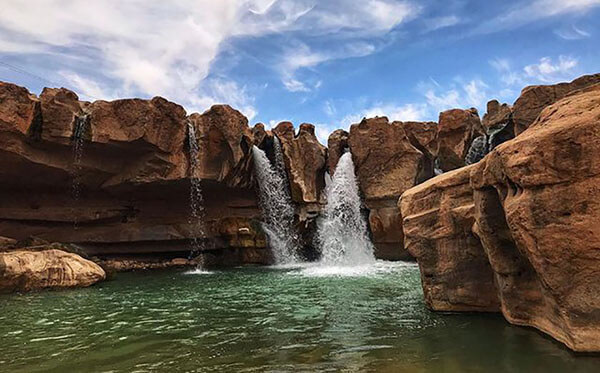 Shirez waterfall; Earth's natural museum
This Waterfall is located in Shiraz canyon, and the best time of year to visit it is spring and summer. This canyon has a fascinating and attractive nature and is known as one of the oldest natural museums on Earth. Shirez waterfall is also known as Birds waterfall because all kinds of birds fly through the canyon, and their voices fill the area.
Tang Piaze waterfall with incredible nature
This Waterfall is located near Khorram Abad and inside Piaze canyon. This Waterfall is 3 meters tall and creates several stair-shaped ponds while the water runs through rocks. Because of Regular rains, this canyon has incredible nature.
Kol Chep waterfall with Cavemen remains.
If you want to escape from crowds and enjoy the sound of nature, visit Kol Chep. Kol Chep has located 75km from Khorram Abad and is in Andimeshk, and there is a magnificent seasonal waterfall with the same name.
Evidence shows that a Caveman once lived there.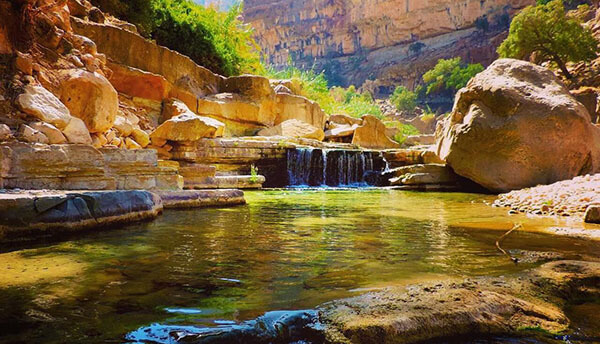 Wark; The twin waterfalls
This twin waterfall is located 57 meters away from Wark village. According to the villagers, this Waterfall never dried out. It is better to visit this area in spring and summer because of the better weather. In fact, From Ordibehesht (April) to Mehr (September) is the best time to visit this area. Oak trees, Hawthorn and Fig, grow at the site, and the vegetation type of the area is Gon.
Golden fall with Pune and Persiavashan vegetation.
A small waterfall with Pune and Persiavashan vegetation.
Persiavasashan is a fern plant that has medical uses. There are also Willow trees, Oak trees, almonds and Mountain pistachios around this Waterfall. This Waterfall appears yellow because of algae and Sediments, which is why they call it Golden Falls.
Julho Waterfall is full of Oak and Cypress Trees.
This Waterfall, also known as Kaka Reza, is located at the hillside of Al-shtr Mountain. Cypress and Oak trees surround this Waterfall, and small reptiles and aquatics live at the top, giving the Waterfall a beautiful effect.
Cheshmeh Gosh waterfall with wild animals in the area
This Stair-shaped seasonal Waterfall is located near a village with the same name, and Van, Turpentine, Oak Trees, and Katira Bushes are all around it. This area also has wild berries, hawthorns, artichokes, horseradish and leeks. Lotus flowers are also attractions of this place. Also, different wild animals have been seen in this area.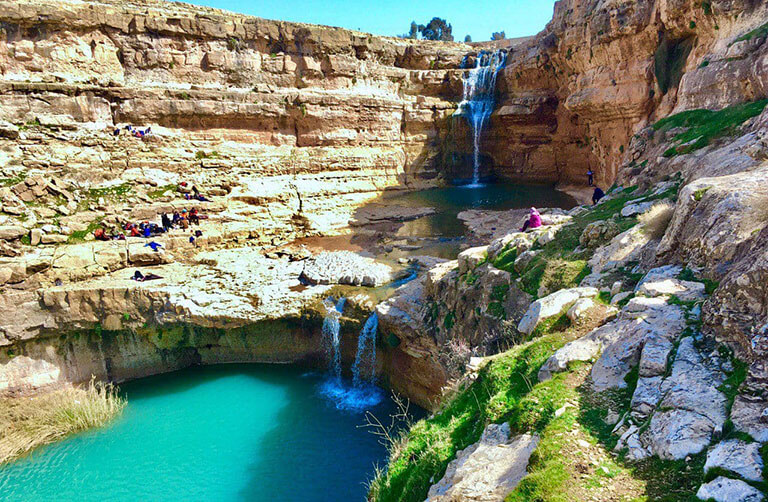 Makhmel Kooh Waterfall, Covered with Lichen
Makhmel Kooh is a waterfall located in a valley with the same name. Some people also call this Valley Shabikhoon Canyon. Makhmel Kooh is full of black Lichens that turn green because of multiple heavy spots of rain in the area.
Nayani waterfall, with the most beautiful vegetation
The Waterfall and the forest of Nayani were among the most beautiful places in Iran. But recently, tourists have set foot in this area, and by being in this area, they enjoy its splendour and charm.
This area has the most beautiful Oak trees, and its Waterfall is stair-shaped.