Tabriz is the historic capital and biggest city of northwest of Modern Iran. A big, green city with mountain climate! There are many attractions in Tabriz, from historical buildings to Tabriz's touristic sites and amazing landscapes that Azerbaijan offers its visitors. If you want to visit Tabriz, Then join Irana Tour.
1- Grand Bazaar, Most famous among Tabriz's attractions
Tabriz's Bazaar has area of one kilometer and is the biggest roofed market of the world. This bazaar had very commercial importance in times of The Silk Road and after that, prospered in Saffavid Era. In 1193 A.H, This bazaar got destroyed by earthquake but got restored with no delays by the order of Najafqulu khan Dunbali, ruler of that time.
2- Blue Mosque or Jahan Shah Mosque
Blue Mosque was built in the reign of Abu Muzafar Jahan Shah Qaraquinlu by the order of his daughter, Salehe Khanum in 15th century. Unfortunately this mosque also got serious damage by an earthquake in 1779, only the Main entrance and Porch were safe from the earthquake and most parts of it has been restored 50 years ago. Although remains are not much but are witnesses to glory and beauty of this mosque. On the tiles of the porch, you'll see complex blue patterns that is where the mosque got its name from. Inside the mosque are all kinds of Beautiful and Artistic calligraphy. Restoration of mosque's indoor and outdoor tiling is still in progress
3- Tabriz Citadel (Alishah)
The original building of this citadel goes back to 8th century. The purpose of its construction, was to build mosque that stopped mid-way because the roof collapsed during construction and death of Alishah. During the war between Iran and Russia in 1804 to 1824, this half-finished structure was transformed to a military wall. In the recent years, most parts of it got destroyed. Today, only the walls of its bedchamber remains from Tabriz's historic places.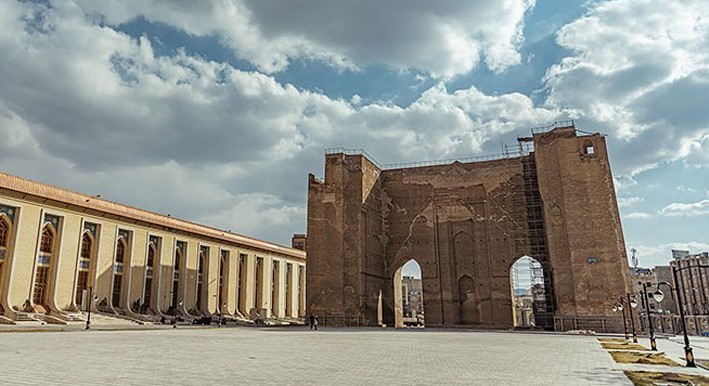 4- Tabriz Jameh Mosque (Kabiri Jameh Mosque)
From its construction in Seljuk Era, this bazaar was the Jameh Mosque of Tabriz and Tabriz's bazaar was built in its perimeter. This old mosque like many other old buildings of Tabriz, haven't survived by many earthquakes of this city and been damaged and restored many times. In result, what you see today is combination of old and new architecture.
5- Azerbaijan Museum
This Museum is located near The Blue Mosque. In 1889, an exhibition was held about coins of Tabriz and after that it took 30 years for this place to become the Azerbaijan Museum and finally in 1922, its building got opened. There are 1200 antiquities pieces that a few of them is for display. The oldest one of them belongs to Iron Age. The Azerbaijan museum of Tabriz is the second archaeology museum of Iran after the national museum of Tehran. Now with three show halls to dimensions of 37 in 12 meters and many offices and libraries, this museum is the biggest museum of country.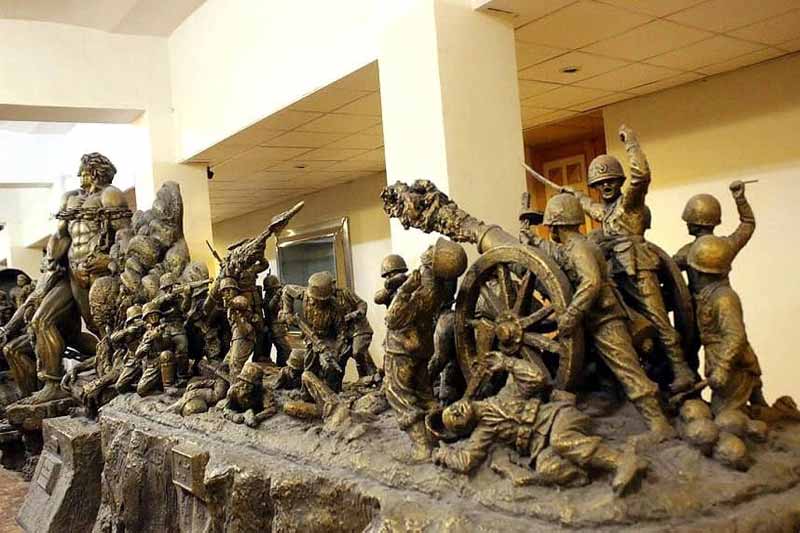 6- Maqbar al-shaara(Surkhab Cemetery) one of the best attractions of Tabriz for fans of literature
History of this cemetery goes back to 13th century. This cemetery also damaged by the passage of time and natural disasters and after destructions, it was almost abandoned till 1931. In 1931, the building design competition of this cemetery had been held and Qulam Reza Farzan Mehr won the competition and now his design is one of the symbols of Tabriz. In the past 800 years, more than 400 well known and poets have been buried here and the most famous of them are Asadi Toosi and Seyed Mohammad Hossein Shahryar.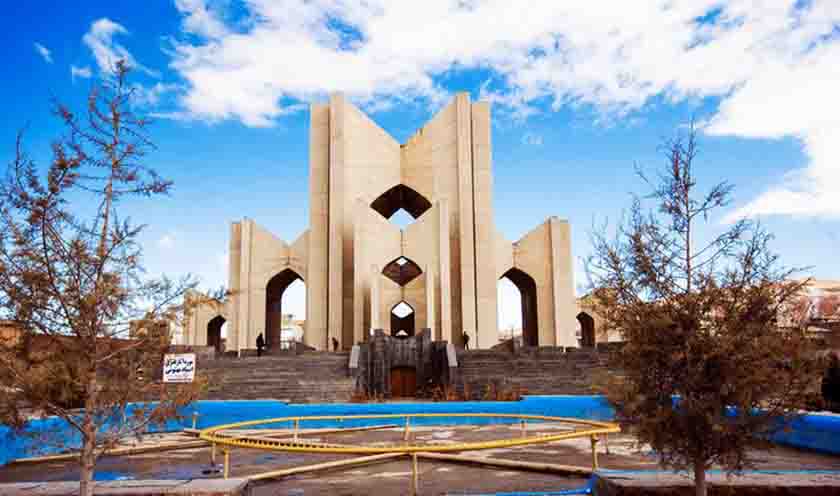 7- Eil Goli Park (Shah Goli)
"Shah Goli" is translated to the pool of King. Gol in Turkish means Pool. The depth of this park is 12 meters and boating is done in this park. This park is 7 kilometers away from center of Tabriz and its construction history goes back to the times of Aqqoyunlu and also The Safavian expanded this park.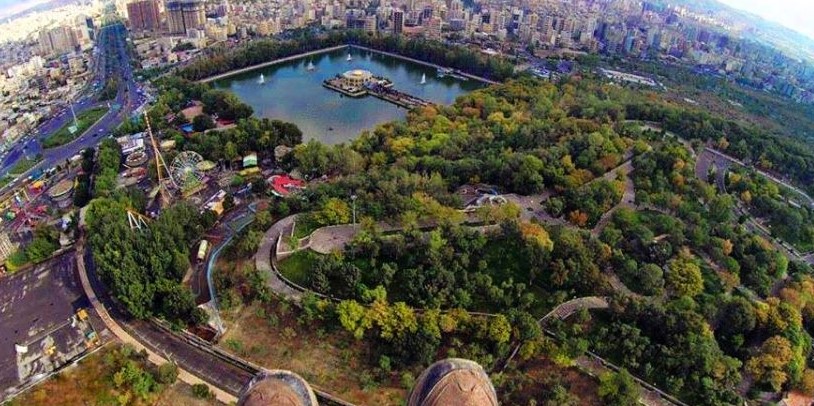 8-Kandavan Village
The most famous factor of this village is that its houses was built like Bee nests in the heart of volcanic mountains of Sahand. This traditional texture with the construction of modern houses gathers together an expanded village. This village is only 47 kilometers away from Tabriz. Kandavan Village is 7000 years old and is registered in the list of National Heritages of Iran because of its unique architecture style.
9- St. Stephen's Holy Church
St. Stephen's Church is located 17 kilometers away from Jolfa and near Aras River. Its construction date is not clear, although some assume it is from the beginning of Christianity and some say that it is from 10th to 12th century. This church also got destroyed by Tabriz's earthquakes and The Saffavid restored it. This beautiful church is always popular among people and the attractions of Tabriz.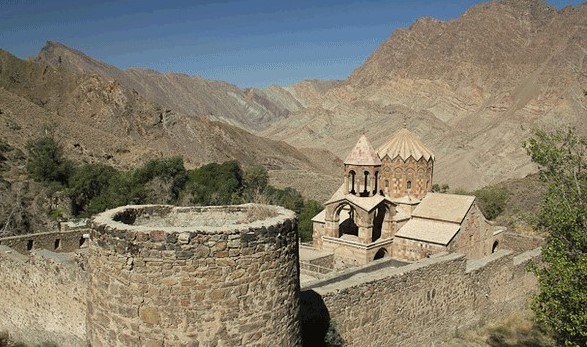 10- Aoun Bin Ali Mountain Park (Ainali)
No matter you visit this place with car, on foot or with tele cabin, Ainali Mountains will offer all its visitors a fantastic landscape from Tabriz. Be careful that the summit of the mountains is cold and be sure to have appropriate clothes with you. You'll only need a hot drink to fully enjoy this mountain.
If you want to visit Tabriz, you must get an Iran visa, click for more information